Advanced materials with novel functions and high-performance needed by clients are created by specialists at KRI who specialize in areas ranging from fine synthesis to fine processing.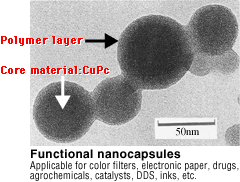 The New Functional Materials Research Laboratory offers quick and comprehensive solutions matching the needs of clients applying achievements in technology in the areas of nanotechnology, biotechnology, energy-, and environment-related technologies. These technologies have been created in conjunction with five key technologies in advanced material design based on fine synthesis technology and fine processing technology as shown below.
Highly skilled researchers provide support from the stage of establishing new business opportunities to finding solutions for technical problems.

For more information contact: