KRI specialists will contribute to achieve client's business targets of the following research fields.
Environment and Energy
Aging Society
Automatic Operation of a Motor Vehicle
IOT Technology
Key words for future research business :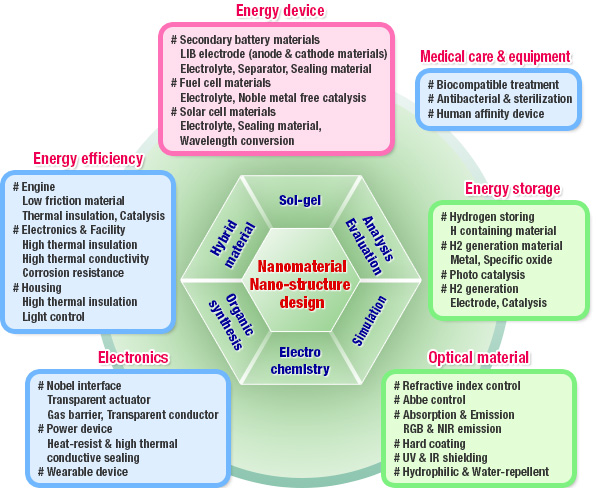 Capable material technology & Application areas

KRI supposed application – Theme examples -
Device
Material technology
LIB
Anode & Cathode materials, Electrolyte, Separator, Sealing material
Capacitor
Electrolyte, Separator, Corrosion resisted sealing material
Solar cell
Electrolyte, Photo resisted sealing material, AR film, Transparent conductor, Wavelength conversion material
Fuel cell
Non-humidified proton conductor, Noble metal free catalysis
Interface
Transparent actuator, Gas barrier, Transparent conductor, AR film Sealing material
High power LED
Light & thermal resisted sealing, Emission material
Power device
High thermal conductive, low CTE & thermal resisted sealing
Ion migration resist & insulating film
KRI provides solutions to technology problems in the material composition,
physical properties designed for client's devices.

KRI can propose degradation analysis of the device problems.
For more information contact: