KRI is contributing to the progress of energy and environmental technological fields
via its energy storage system technology.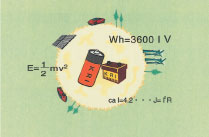 The Energy Conversion Research Laboratory has a coherent development structure that covers a wide range of topics in the advanced technology field related to batteries and capacitors (electrical energy storage devices). These topics include technological development for positive and negative electrode materials; the development of electrical energy storage devices; all kinds of evaluations and analyses; and the development of module and system technologies. We contribute to the development of advanced technologies by combining the technologies that we have already developed with the most advanced material technology, secondary battery evaluation technology, and all other technologies including mechanical engineering and electronics.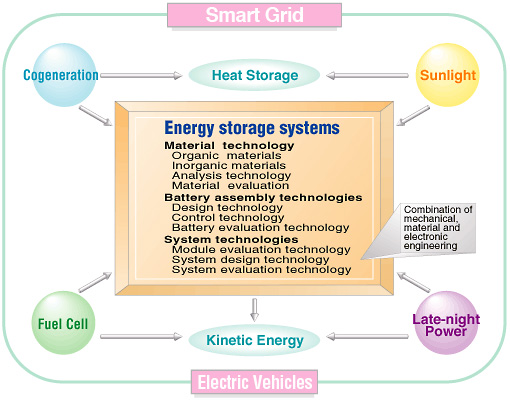 KRI's Secondary Battery Technology Field
Energy Conversion Research Laboratory since 1998
Solving research and development issues related to materials and electrodes within 5 years
Main research themes

Composite materials, technologies to reduce resistance, pre-doping technology, capacitor-related development, electrode formation technology, development of
cutting-edge evaluation methods

Main clients

Material developers, trading companies and public research institutes

Battery Evaluation and Analysis Laboratory since 2012
Supporting device development through the study of device principles as well as formulation and verification of hypotheses
Main research themes

Development of new devices (including design and prototyping), safety element technology development, development of life analysis methods, device design and prototyping, development of cutting-edge safety methods, support with module and
system development

Main clients

Device developers, system developers
Next-generation Batteries Laboratory since 2016
Achieving practical use of next-generation materials and batteries in compliance with the principles based on material technologies such as quantum and solid state chemistry
Main research themes

Research on next-generation active materials, solid electrolytes, molten salts, development of technologies beyond LIB
We discuss the possibilities of next-generation materials and pursue the feasibility of their creation at our clients' side.
KRI's One-Stop Service for Electrical Energy Storage System
Coherent development structure capable of research and development, evaluation and analyses of technologies ranging widely from materials to systems
High quality service with improved promptness and appropriateness catering to clients' diverse needs and diversified market trends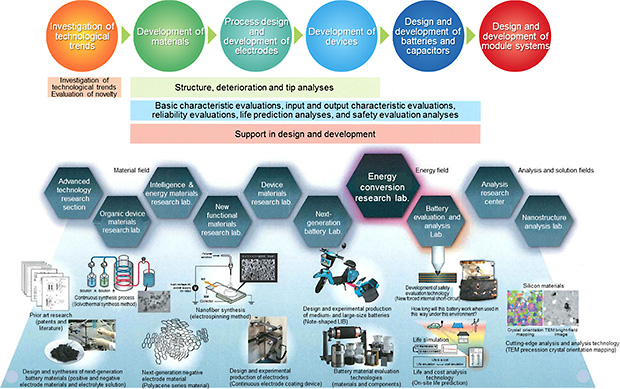 For more information contact: